You can verify your return using any one of options mentioned below after you have successfully e-filed your tax return —
Send the ITR-V, the 1-page verification document to the Income Tax Department in Bangalore. Instructions on how to send your ITR-V.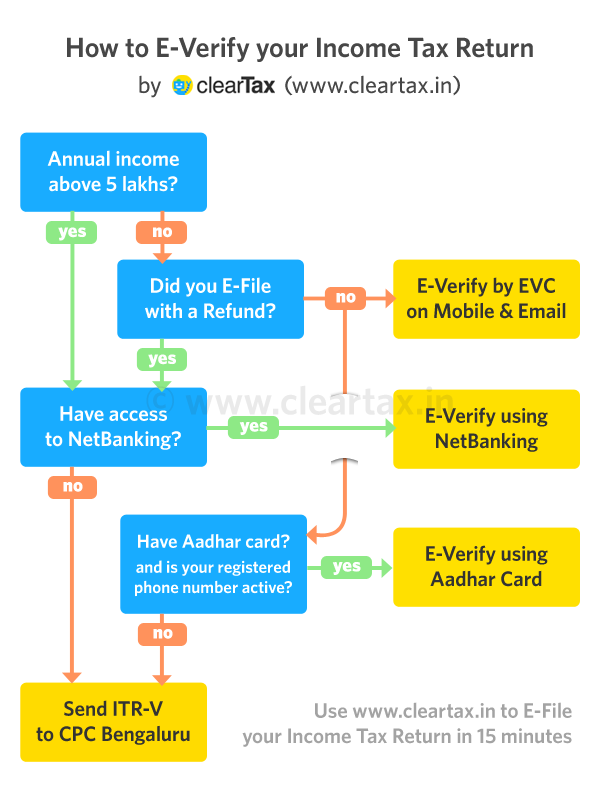 You can also Generate an electronic verification code using the Department website, OR through your net banking account, or bank ATM, or with the Aadhar card. The electronic verification code is a 10-digit alphanumeric number that is unique to a PAN. EVC is valid for 3 days only. It is valid for 10 minutes if generated via Aadhar card.
Follow the steps here to verify your return using electronic verification code:
Step 1.
Login to the Department e-filing website
Step 2.
Select e-filed Returns/Forms from My Account dropdown
Step 3.
Click on "Click here to view your returns pending for e-verification"
Step 4.
Select the AY you want to e-verify your return for
Step 5.
Choose one of the options from under:
Step 6.
If you chose Option 1, you would get this screen to enter the EVC generated.
Step 7.
This is the screen you would see to generate EVC through Netbanking or email address/mobile number registered with your e-filing account.
Step 8.
This is the option to generate EVC through Netbanking. You will have to login from the Netbanking account and then be redirected to the e-filing portal.
Step 9.
When you select Option 2, you will receive the EVC to your inbox directly.
Step 10.
When you select Option 3, you will be asked to link your Aadhar card with your e-filing account.
Step 11.
You will see a confirmation message about your e-verification.
Step 12.
Download the attachment. Your e-filing process is complete and No further action is required.
Source from: Cleartax.in